Dear Friends:

Welcome to Iris City Gardens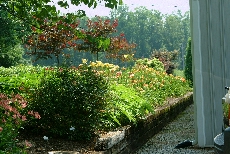 This is our twenty-fourth catalog and we very much appreciate each and every one of you for making it possible.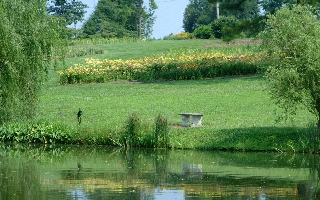 Ordinarily, this is the place that I detail the various horrors visited upon us in the previous year, floods, droughts, tornados, etc, but nothing happened! 2017 was quiet, rain was adequate, vole infestation was mild and we seem to have taken care of our deer problem. (If you have any armadillo solutions I'd appreciate hearing from you.) As I write this we're having an ice and snow storm and unusually cold temperatures for the next seven days, at least, so maybe 2018 will be more interesting than 2017.
We encourage you to visit during our open gardens to see the plants in person and enjoy our beautiful country farm. You're welcome to bring a lunch. We have picnic tables and supply the lemonade.
This year we are introducing thirteen new irises, including seven new beauties from Peter Jackson of Adelaide Australia, a new diminutive Louisiana from Bernard Pryor, and another very nice bearded iris from Tom Silvers. This year we are introducing four Louisianas from Don Grieves, also of Australia. We will also be listing in our catalog three of Don's beauties that have been introduced in Australia, but have never been available in the U. S, You may be familiar with Don's SPLITTER SPLATTER, an unusual broken-color bloom that we have listed for some years now. Don has very graciously allowed us to introduce/sell all his cultivars so you will be seeing more from him in the years to come. As always, we're very grateful to our hybridizers for allowing us the priviledge of introducing their beauties.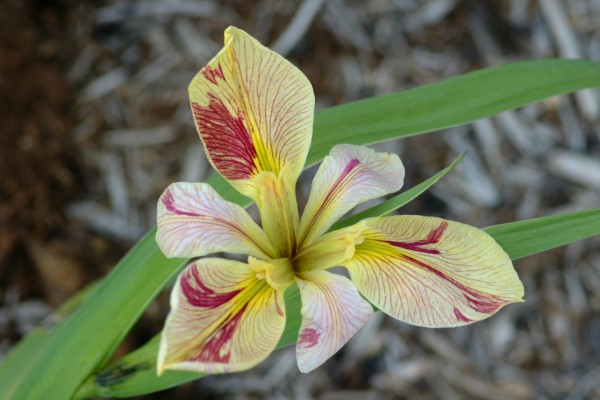 SPLITTER SPLATTER-Louisiana iris
Beardless iris are easy to grow and are not very troubled by pests or disease. Their foliage is attractive all during the growing season and, of course, the blooms are fantastic. Most like a slightly acid soil and welcome the mulch that helps control weeds and hold in moisture. They are very good for use near, and in some cases in, ponds and streams. The bearded iris prefer relatively dry conditions and a less rich soil. Our inclination is also to carry the older iris (see History), which we have found to be hardier and more disease resistant than many of the newer varieties.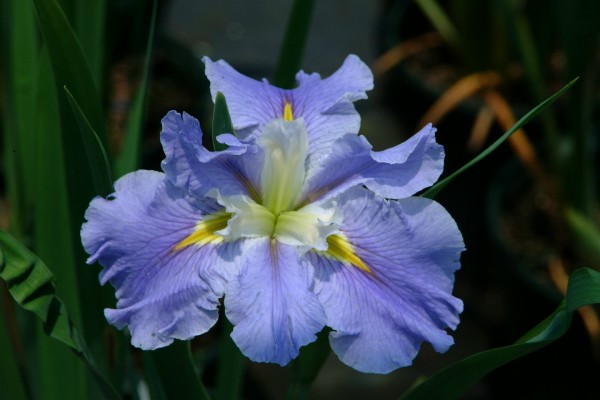 BLUE MOUNTAIN MIST-Louisiana iris
This catalog lists approximately 450 varieties of iris, including many not listed in our 2017 catalog. We now grow over 1,000 different plants including 700 iris, 200 daylilies,120 peonies and many other perennials. We offer garden sales of pond plants, including water lilies, and potted varieties of iris, daylilies, peonies and other perennials for Spring planting. Otherwise, we ship bare-root bearded iris beginning mid July and beardless iris in September.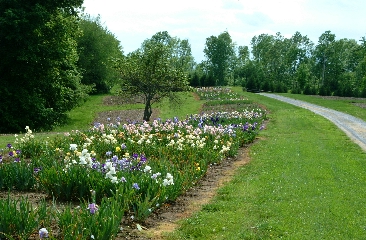 Our gardening year begins with a booth at the annual Nashville Lawn and Garden Show, a plant lovers paradise in early March, coming just in time to save you from the winter blahs. This year it will be held March 1 to March 4 and it's well worth a long drive to attend. Lots of vendors selling great products and the gardens just have to be seen to be believed.

Our gardens are open for visitors Wednesday through Sunday, 9 am until 4 pm (Central) from April 18 to July 1. (If you'd like a preview check out our AT THE FARM section where you can see a selection of the goings-on here, including animals both wild and not so wild, over the last several years). We're about 40 miles southwest of Nashville and we'd be most pleased to have you visit. If you can arrange to travel through the small village of Leiper's Fork on your way here, it would definitely be worth your while to stop in. Interesting shops, good restaurants, local characters and music stars abound. We're 10 miles from downtown Leiper's Fork.
Macey and Greg McCullough
7675 Younger Creek Road
Primm Springs, TN 38476 USA
(just southwest of Nashville)
800-934-4747
800-934-4747(fax)
info@iriscitygardens.com