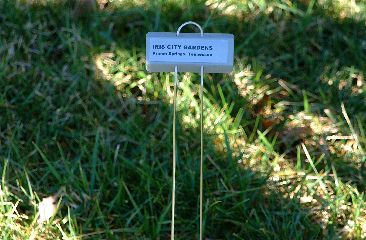 These are the garden markers we use in our plant beds.

They are 12" and 18" tall, double stainless steel legs with a 3 1/2" by 1 1/8" zinc-coated aluminum plate.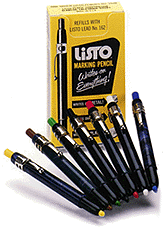 The plates can be marked with a variety of markers. We use a Listo pencil, which lasts well and can be removed so that the plate can be reused. We use the Brother label system for long-lasting printed labels. We've also heard that paint pens work well. Recently we've used the Avery clear return address label printed with a laser printer and these seem to last very well (our test label has been outside facing south for more than five years and is perfectly readable).
Unlike most, these markers will not rust, an unappealing sight in an otherwise beautiful garden, and can be used over and over for years to come. The stainless steel legs will fit most of the popular marker plates sold, so you can replace those rusty legs and not have to re-mark all the plates. We're happy to send you a sample to test with your plates.
| | | |
| --- | --- | --- |
| | 12" | 18" |
Extra plates are $2.40 per dozen
Listo pencil and six refills are $3.00
Listo pencil only, $2.00
Six refills only, $1.00