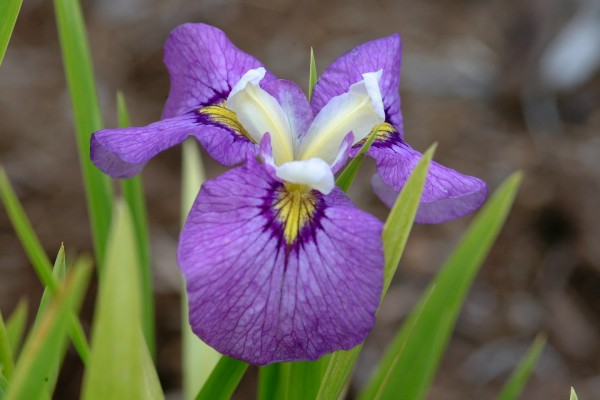 PIXIE WON
We find these iris very interesting and attractive. They are easy to grow and some bloom very late in the season. Many will grow in standing water, but also thrive in regular garden soil with the other beardless iris.

The far right column contains Awards received (if any), registered height and bloom season and price.
Click on the thumbnails to view larger images.
Use your browser BACK button to return.
BEET ROOT (Tiffney )
I. x robusta. I. virginica and I. versicolor. Very hardy with violet I. virginica sized flowers. The foliage is colored reddish purple.

38"
$8.00
Ltd Q

CHANCE BEAUTY (Ellis 1990)
Pale yellow standards, falls yellow, veined chocolate with a deep yellow signal patch. I. pseudacorus x I. ensata. This beauty grows to five feet tall for us and invariably stops traffic in our garden.
AM1988(B)
36" M
$8.00

KINSHIKOU (Shimizu 2004)
Rose over a yellow background, giving the appearance of peach. Deep yellow signal surrounded by rich dark wine eyelash markings. Styles are light yellow with matching, very small standards. Name means GOLDEN MONKEY. I. pseudacorus x I. ensata.

AM2010
37" E
$10.00

LITTLE CAILLET (Durio 1996)
Cross between I. virginica Light Blue and the tetraploid Louisiana iris BAYOU ROUGE. Standards orchid-blue, veined wisteria-blue, light lavender edged white; falls wisteria-blue veined deeper. Signal golden yellow and green. Slight spicy fragrance.
AM2006
25" M
$10.00
PIXIE WON (Copeland 1997)
Small violet standards with a white midrib; falls violet with a dark purple halo around the yellow signal, purple veins throughout. Cream white styles. I. pseudacorus x I. ensata
RPM2005
16" E
$10.00

SAKAI NO OGON (Maeda)
Tetraploid. Deep, clear yellow, mature plants producing 20 plus blooms. I. pseudacorus x I. ensata. Introduced in Japan in 1998.
40"
$8.00